The Gathering At The Table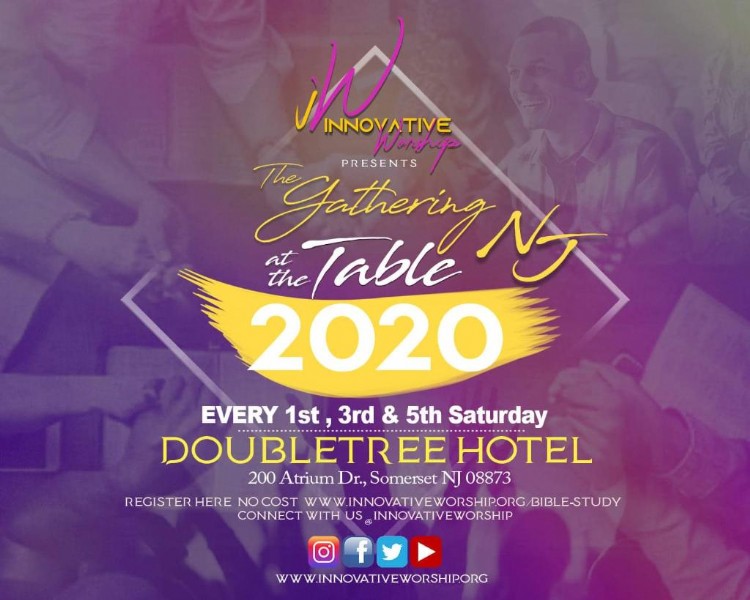 What is the Gathering At The Table?
The Gathering At The Table is an organic community of believers following Jesus Christ. We are committed to growing stronger believers in and followers of the Lord Jesus Christ through prayer, worship in spirit and truth with indepth study & application of His word, while Living Out Our Yes. Our heart's desire is to immerse ourselves in a deeper intimacy whereby living in the manifested presence of the Lord.
Since Jan. 2019 the team here at Innovative Worship Inc., embarked on the journey of developing this arm of the vision and we have been overwhelmed by the influx of support from both the residents and businesses in this area as we have not only invested in the spiritual development but also the socio-economical empowerment of its people.
Who can attend?
It doesn't matter if you've accepted Jesus Christ as Lord & Savior a long time ago, recently accepted or not yet accepted, there is a seat at the table for everyone.
How can you get plugged in?
Visit & become a part of our growing community:
Currently we fellowship 5:30pm every 1st, 3rd & 5th Saturday monthly at the Doubletree Hotel,

200 Atrium Dr. Somerset NJ 08873.

Ocassionally we have to change to a nearby location so we encourage our guests to click the link:

R

egister for THE GATHERING AT THE TABLE-NJ

to recieve updates, as our community is quickly growing. By subscribing for updates you will also get the information to a private link to join our global online community if you are not in the area.

Click on the link to stay abreast of our upcoming

SERVICES & EVENTS

.
Opportunities to serve:
With a vastly growing community there are many opportunities to explore, develop and commit in the areas you are called to serve. If you have been joining

us over the past year or even if it is your first time with us and the Lord leads you to serve alongside our team we gladly welcome you. Simply click the link and answer your

CALL TO SERVE

.

Complete & submit the form and a dedicated member of our team will connect with you to assist through the next steps.
Opportunities to sow:
Innovative Worship Inc., is a registered 501c3 organization. Without the generous financial support of our members, donors and partners we could not have served in our first year At The Gathering At The Table-NJ over 100 families with back to school supplies in grades ranging from Kindergarden - High School and plan on serving even more households this year. If you are not able to serve physically for whatever reason allow us to be your hands and feet. Prayerfully consider

PARTNERING

,

SOWING

or

TITHING

as the Lord leads by clicking on the hyperlinked words.